Essay Writing Competition Winners
Youth Awakening Day :
In view of the Youth Awakening Day, which is celebrated as a commemoration of the great Dr. APJ Abdul Kalam, we organized an essay competition in collaboration with the Department of Education, Government of Tamilnadu.
The topics were,
India – the Youngest Emerging Nation of the World 
Responsibility of the Youth in the Development of the Nation
We had an overwhelming participation and the results are as follows,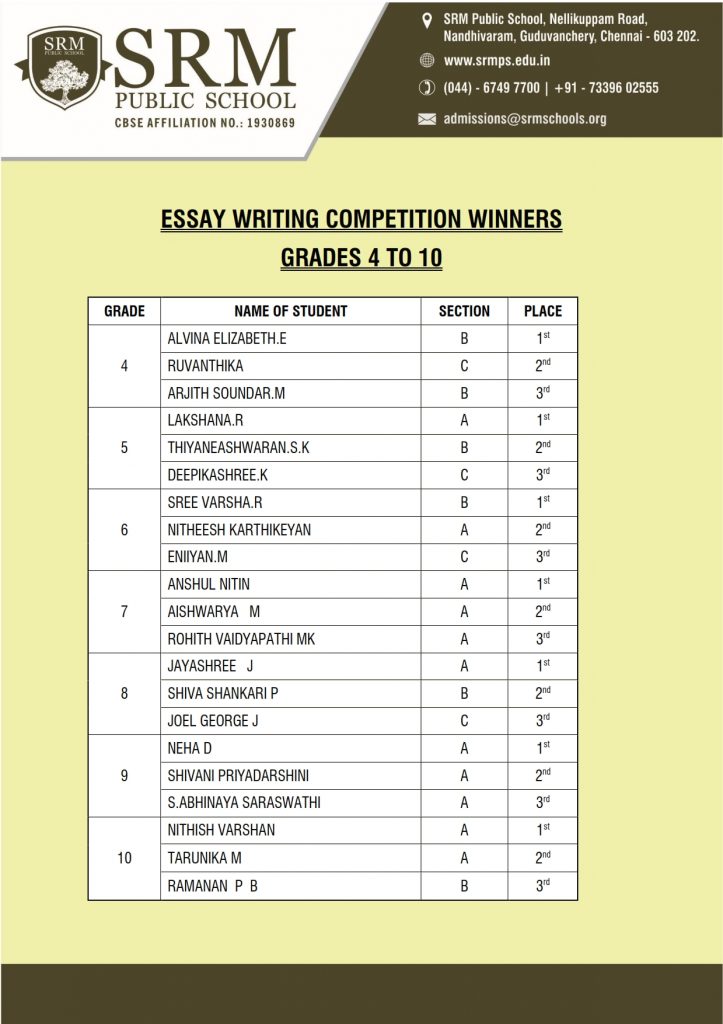 Vijayadashami Pooja Celebration_2020
FIT INDIA FREEDOM RUN
Fit India Freedom run from 15th August to 2nd October is a CBSE initiative for all its stakeholders and specially students. Having a daily regime of running can add years to life and life to years. Considering the Covid 19 situation running is by far the best option to stay fit provided that the people adhere to the social distancing norms laid down by the government.
SRM Public School is proud to inform you that our school has received an organiser certificate in the FIT INDIA FREEDOM RUN Event. The students of Grade 7 to Grade 10 had actively participated in the event.   The drive was organized under guidance of     Ms. S. Bhuvaneshwari, Principal, SRM Public School.  The students, teachers and parents were asked to choose a suitable time for running, keeping social distance in mind. They had to document this through any fitness app and send the screenshot to the school.
A couple of stakeholders have benefitted through this endeavour and have now incorporated it in their daily routine. They unanimously agree that by and large this is a wonderful way to keep away stress, anxiety, and depression with no specialized equipment or a structured Gym.
The Department of Physical Education  appreciates the students who participated.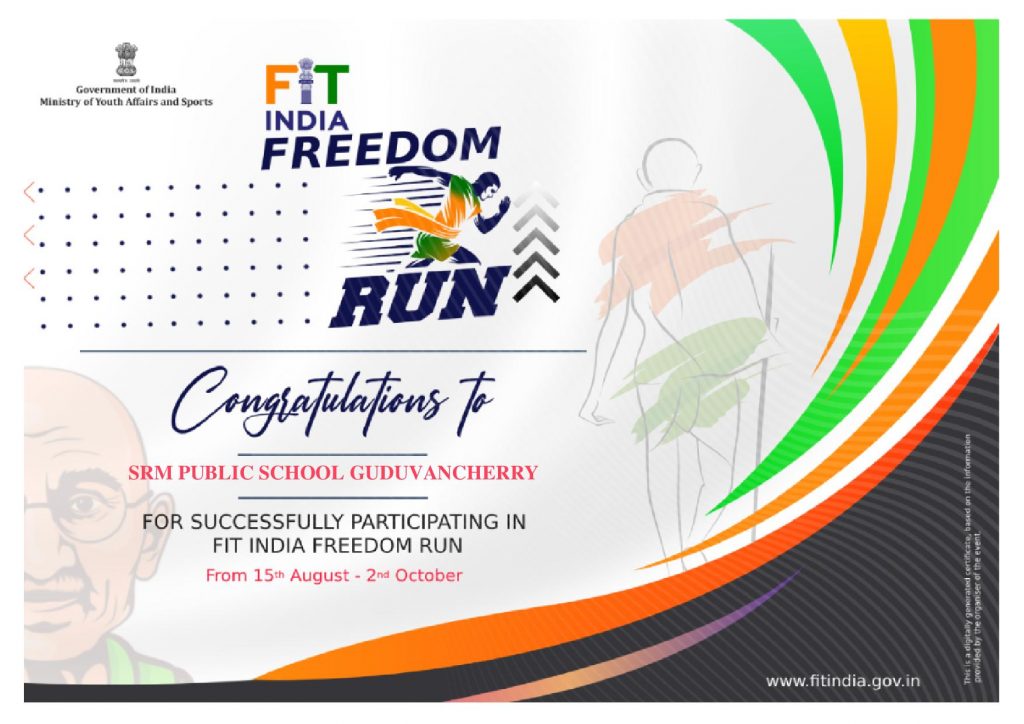 SRM Public School is granted Senior Secondary Status by CBSE
We are happy to announce that Our SRM Public School is granted Senior Secondary Status by CBSE.
Affiliation No.: 1930869
Sapling Plantation
SRM Public School always strives to create awareness about the environment among students. With the noble mission of making our city green and serene, SRM Public School participated in Bharath Scouts & Guides Tree Plantation Drive on Tuesday 29th September 2020. The motto behind this mega initiative was an effort to reduce air pollution in Tamil Nadu which has reached alarming levels. The drive was organized under the patronage and guidance of Ms. S. Bhuvaneshwari, Principal, SRM Public School.
We are happy to inform you that our students (Scout & Guide and Cub & Bulbul Unit) and staff had planted saplings in their immediate surroundings and we are sure that their initiative will be a motivating factor in encouraging others to follow their example.
A group of enthusiastic SRMPS Scouts & guides planted more than 20 saplings of herbal plants such as Curry Leaves, Neem, Basil, Guava, Ashwgandha etc. i.e., the herbal garden within the school
premises and residential society but also energetically carried the drive in the neighbouring area. The students planted saplings in the garden of a residential society to raise awareness and consciousness about environment among the masses. The residents welcomed and supported the endeavour wholeheartedly. The drive was a huge success empowering students with substantial knowledge of environment and plants and simultaneously enhancing their social skills.
Interactive Session – 25th September 2020
Interactive Session – Grades 9 and 10 on the 25th of September 2020 (Friday) between 3pm to 5pm on the topic- 'How to set goals and stay focused during high school and the opportunities in the field of accounting and commerce.'